SARAH HUCKABEE SANDERS: NEW ELECTIONS SAFETY COMMISSIONS TO ONLY ALLOW "QUALIFIED, SERIOUS" CANDIDATES ONTO THE BALLOT
LEGISLATION PART OF NEW "RETURN TO NORMALCY" INITIATIVE
By Dr. Fred Potato
Radio Free Ozarks Editor
July 12th, 2023
Candidates for state elections in Arkansas would need a new layer of approval, under legislation proposed for a Fall 2023 special legislative session. As outlined by Governor Sarah Huckabee Sanders, new Elections Safety Commissions would be required to vet all candidates before they would be allowed to appear on the ballot. Per the language of the bill, only "qualified, serious" candidates would allowed to stand for election.
Governor Sanders announced the initiative at a special conference/rally held at the state capitol building this past Monday. The event was not announced through any press release or any of the expected official government channels. Rather, the governor's office appears to have publicized the event through selected social media channels, including Gab, 4chan, and Truth Social. Radio Free Ozarks monitors these social media sites, for research purposes only, and was able to observe the event in a hidden-reporter capacity.
Standing on the front steps of the state capitol, Sanders was flanked by a small group of Arkansas State Troopers. The troopers appeared to be there in a public relations capacity, although they did watch this reporter intensely and with great suspicion during the governor's brief remarks. There were also at least 50 other people in front of and on the steps of the capitol. Ominously, some were dressed in riot gear but with no markings indicating whether they were there in any official police capacity. Others wore masks on their faces and bullet-proof vests and brandished AR-15 assault rifles but otherwise were in largely civilian clothing.
About 30 of the attendees wore black and yellow clothing, likely indicating their affiliation with the Proud Boys militia group, although maybe some were just Pittsburgh Steelers fans? Overall, there was no clear delineation as to where the public relations and security detail functions ended and where the crowd of private, armed civilian spectators began.
A beaming Governor Sanders spoke as though passage of the legislation, based on so-called model legislation crafted by the American Legislative Exchange Council (ALEC), was a foregone conclusion. "Our elections must be protected from the radical, woke left mob that is trying to infiltrate our state and ruin our children's minds. We've had enough of radical left outside woke agitators who meddle in Arkansas' internal affairs and threaten the established order," Sanders declared, to large cheers and a few Confederate rebel yells from those gathered.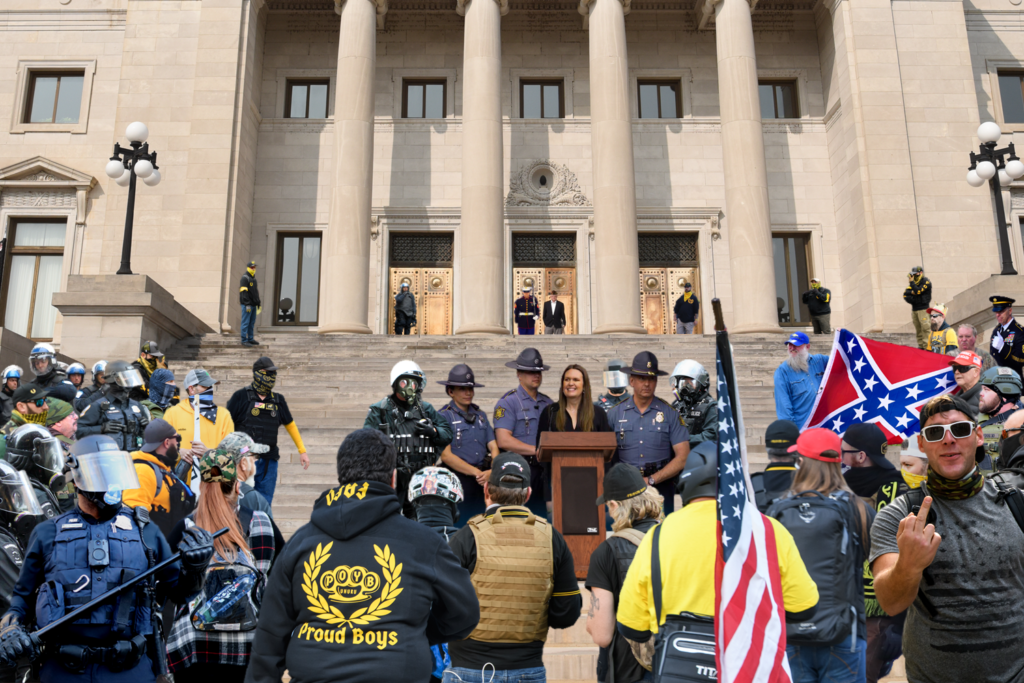 "The pandemic hoax gave these China and George Soros bullies their cover, to sneak into our state and threaten our security, provoke sadness and trouble, and try to infiltrate our government and school boards with their woke radical left woke mob candidates who only want to cause unrest and destroy our values. Arkansans are tired of these radical liberals trying to steal their government, and demand this return to normalcy."
The bill would establish new Elections Safety Commissions that would be set up at the state and county levels. County-level commissions would each have 3 seats and the statewide commission would have 5 seats, all appointed by the governor. These commissions would evaluate every candidate who files election paperwork. The language of the proposed law gives no hints about the criteria that would be used to evaluate a potential candidate, only mentioning "commissioners' discretion." Incumbent candidates running for reelection would apparently still need this approval.
The language of the bill does not state when and how the commissions will operate, but does state that their meetings would need to be kept private "as a necessary national security measure" and thus would not fall under the Open Meetings Law. Also unclear is whether the bill would survive a challenge before the Arkansas State Supreme Court. The high court, comprised of elected judges, could have to weigh in on whether the law is constitutional.
"My promise to you is that I will only appoint loyal, hardworking, patriots to these commissions," Sanders stated. "Good Arkansans, drawn from the ranks of law enforcement, veterans, gun shop owners, wealth managers, 4-wheeler salesmen, and various groups of wise elders. Men and women of God, from all denominations of the Southern Baptist Conference. My first appointment, to the state commission, will be the First Gentleman himself, my husband Bryan Sanders." Sanders paused for applause, which did not come.
"Some will say 'Hey, that's not a democracy.' To them I say 'Who are you and where do you live? I will have you arrested!'" Sanders and the crowd laughed. Strangely, someone in the crowd yelled out, in French "À la lanterne!" In English the phrase means "To the lamp post!"
After an awkward pause, Sanders continued her prepared remarks. "Once normalcy is restored and enforced, I believe that these commissions will become only a formality. But today this action is about defending democracy, protecting the constitution, and protecting voting rights by making sure only genuine, competent, and serious candidates are allowed to run for office.
"By the letter and spirit of the law, these commissions will make a full, good faith effort to ensure that at least one qualified candidate appear on every ballot for every office. If that is not possible, new emergency provisions come into effect, where I will be able to appoint someone to fill an office, with all confirmation or residency requirements waived.
"So to preserve democracy for future patriots, we will separate the wheat from the chaff. So I leave you with this bible verse, Matthew 3:12. 'His winnowing fork is in his hand, and he will clear his threshing floor, gathering his wheat into the barn and burning up the chaff with unquenchable fire.' Thank you and God bless!"
At the rally's conclusion, Governor Sanders and her entourage quickly walked in to a long reception tent set up on the capitol lawn. This end of the tent was set up behind a security fence and had a sign reading "State VIPs" and was not accessible to the media. Curiously, the opposite end of the long tent was just outside the security fence and was adjacent to the publicly-accessible sidewalk. This end of the tent had an entrance but was guarded by civilians wearing face coverings and carrying assault rifles. A sign over the entrance stated "PROUD BOYS RECRUITMENT CENTER."
This reporter approached this entrance to the tent to display press credentials but was blocked from entering by one of the armed men. This man declined to provide his name and moved his weapon to the "low hover" ready position when questioned. The man later stepped out into the street and spoke loudly and pointed at a white male teenager watching from the other side of the street. "Listen son," said the man with an AR-15, "there's room for you inside." The youthful onlooker did not provide a name but gave his age as 14 and said he was headed home to play Fortnite.
Lieutenant Governor Leslie Rutledge also stood nearby, as she was not allowed to enter the tent either. Rutledge stood with the crowd of onlookers, scowling like she does so well, whilst smoking.
Photo Attributions:
1, 2, 3, 4, 5, 6 – Geoff Livingston (Modified by RFO) CC BY-SA 2.0
7, 8, 9 – Chris Huggins (Modified by RFO) CC BY 2.0
10, 11 – Elvert Barnes (Modified by RFO) CC BY-SA 2.0
12 – Stephen Michalowicz (Modified by RFO) CC BY-SA 2.0