A RADIO FREE OZARKS EXCLUSIVE, FROM OUR GREAT LAKES CORRESPONDENT
IT CAME WITHOUT A WARNING: UFO OVER CLEVELAND DEMANDS ELP ROCK HALL INDUCTION
By D.T. Franklin
Radio Free Ozarks Great Lakes Reporter
February 19th, 2022
A craft of undetermined and possibly extraterrestrial origin briefly appeared in the skies above Cleveland's central lakefront on the cold and misty morning of Wednesday, February 9th. The appearance was apparently timed to coincide with the end of Rock & Roll Hall of Fame President and CEO Greg Harris' morning commute, when he was walking across a parking lot from his car to the museum. Through a light show and images projected into the sky by means unexplained, and through Quadraphonic sound that shattered dawn, the operators of the UFO made clear to Harris their unhappiness that the 1970's progressive rock trio Emerson, Lake & Palmer have not been inducted into the Rock & Roll Hall of Fame.
Dashcam footage from a Cleveland police cruiser captured grainy, distant, video footage of the event from approximately half a mile to the east, along North Marginal Road. The sound on the recording was from inside the police car, and included very muffled sound from the event, plus a police officer remarking over the radio that the museum appeared to be "testing an awesome new light show," and that he needed to go see the museum's current Bruce Springsteen exhibition before it closes. The timecode on the police video showed that the incident started at around 7:06am and lasted approximately 12 minutes.
A still image from the dashcam video was posted to the official Twitter account of the Cleveland Divison of Police but for unstated reasons was deleted after 20 minutes. Radio Free Ozarks received this image from a source who saved the image before it was removed. In an email, Cleveland Chief of Police Phillip Patek declined to make the video available or release the name of the officer who witnessed the incident. Patek, whose describes himself as a "Lifetime Kiss Army Soldier" on his personal Facebook page, stated that there would be no police investigation of the incident, questioned whether the incident actually happened, and stated that the video would be deleted after 30 days per standard department policy. The full video is currently being requested under FOIA actions filed by both Radio Free Ozarks and the Country Music Hall of Fame.
Radio Free Ozarks reached out to a source at NORAD to ask whether there were any airspace alerts near Cleveland on the date in question. Over the phone, the source tried to suppress his laughter and could be heard commenting to his colleagues that someone was "finally asking about the ELP UFO." A roomful of laughter could then be heard, and the source noted that they were "all pretty big Van Halen fans here," before ending the call. A call placed to the control tower at Cleveland Hopkins airport went unanswered and the phone was still ringing at press time.
Reached by phone in his office at the Rock & Roll Hall of Fame, Harris was taken aback that Radio Free Ozarks was the first news outlet to contact him about the incident. Harris acknowledged that not only did he witness the UFO's appearance, but that the UFO's presentation was apparently meant just for him. Harris seemed conflicted, saying that while he was anxious to tell his story to someone, to "get it off his chest," he was concerned that his "punk credentials" would be tarnished as a result. In a subsequent interview, conducted remotely, Harris sat in a darkened room and noted that he had been drinking "a lot" ahead of the interview, but was ready to tell his story.
"I had driven into work before sunrise, same as usual. We're already looking into potential nominees for next year so I'd been listening to Hank Williams Jr. all week during my commutes. I got out of my car and it was a jarring experience, because I was in a complete Bocephus frame of mind. What's strange about it all is that while I certainly remember the event, as anybody would, it's like it's also been inserted into my mind permanently, so none of the details have faded since it happened. Remembered forever."
As Harris recounted his experience, he seemed to enter an almost hypnagogic state, speaking quietly and staring off into the distance with a glazed expression. "The sky around me suddenly went from mostly dark to a bright blinding white light coming from above. But yet there was a wide gap on one side where I could still see the sky. I couldn't run…it just seemed like a time and a place meant for me. And in that gap the sky became like a screen, and music started up and it was a band being projected in the sky. They were in concert, a trio playing an intense piece. And a deep, resonant voice spoke, but I could tell that it was somehow artificial, not of this world. Booming and yet reassuring. Was it really happening, or was it a dream? But I could hear it echo off the buildings.
"And the voice said to me 'From beyond the world of mortal man, to help the helpless and the refugee, to save what's left of humanity, we have carried the dust of a journey. But we must also come to you and ask…Dolly Parton? Nominated for the Rock & Roll Hall of Fame? Really? She's a saint, but not of Rock & Roll. Really? [emphasis added] When we heard about that we added this task to our work here on your world. To visit you. Listen.'
"And the voice was quiet, to let me see the show. It was low-fi video from the 1970's. Without being told, somehow I knew. It was from the California Jam in 1974. A great, energetic song. And the keyboard player was incredible, a virtuoso, with each hand moving at dazzling speeds, playing together and playing as separate instruments. Keys, he played them all with ease. And he was the lead instrument. Bluesy, with that Hammond-y organ sound, yet orchestral. And in my head I knew that the song was 'Karn Evil 9, 1st Impression, Part 2'. And the keyboard player was the one and only Keith Emerson, dressed in a white tunic.
"The singer had a gorgeous, strong, tenor voice, with power and also joy. He also nimbly played the electric guitar, but my hosts let me know that he was usually on bass, and this was a rare treat to see. The thoughts in my head knew it was Greg Lake. In a white suit, with no shirt on underneath. And chewing gum, strangely enough.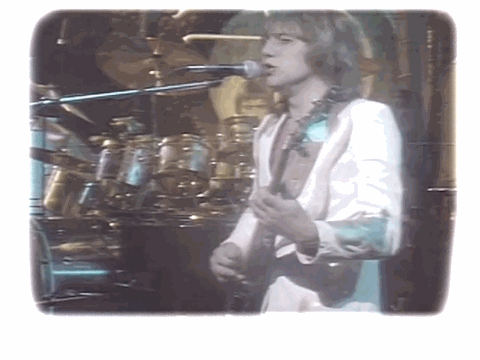 "And the drummer, so in tune with the other two. Jazzy, but with such technical skill. The song got to a drum solo break, and he became so intensely fast, sometimes a blur to the eyes. Like Buddy Rich, hammering the plastic. Not Buddy Rich, they told me. Carl Palmer. Dressed in a black silk robe and drenched with sweat. And what a drum set! Stainless steel drums all around him, with two gongs behind him, and a large triangle and even a bell overhead.
"It was a most amazing show. Then voice spoke again, saying there were other highlights they wanted to show me. They said that time was of the essence, and the extended drum solo must wait, because their visit to Cleveland was a side task, and they were scheduled to mess with the Navy planes off the coast of California later that morning. They told me that they love ELP and listen to them frequently during their travels. Some great zippy UFO driving music.
"They played a few short pieces into my head. From 'Pictures at an Exhibition', the original 1970 live album. Greg Lake was playing bass now, playing in my face, grabbing the elastic, locked in with the drummer. From the 'The Old Castle' blues jam, leading into 'Blues Variation'. It was audio only. My hosts apologized, saying the Lyceum Theatre version with the cool video had been taken down from YouTube. Then a different show, the 'Aquatarkus' jam from 'Tarkus', for which my hosts again apologized, as there was no good visual record to go with it. Then they switched to the chunky middle jam on 'Fanfare for the Common Man'. The music was from the album, but the film was from a very snowy Montreal Olympic Stadium rehearsal in 1977.
"And then back for the very end of The California Jam, and the very end of 'Pictures at an Exhibition', the 'Great Gates of Kiev', where Greg Lake sang in his gorgeous soaring tenor voice 'There is no end to my life, no beginning to my death…' And I could sense my hosts' sadness that two of the three members of ELP are passed and any Hall of Fame induction would be posthumous. And I felt sad too, with a touch of regret.
"Over the closing crash of the song, the voice sounded pleading for the first time. 'Greg Harris, for the voters at your Hall of Fame, please, please, please open their eyes. More than 48 million records sold. [emphasis added] It's the only way. Emerson, Lake and Palmer in the Rock and Roll Hall of Fame. You know it wouldn't come a moment too soon.' With that, the lights went out, and I was back in a cold parking lot next to the Hall of Fame. Standing out there alone. I had dropped the LL Cool J box set that I was carrying. So I scooped it up and went into the office and tried to pretend like it was a normal day. Did it really happen then, or was it a dream?"
Harris looked into his computer's camera for the first time since the start of the interview, then leaned forward and took a drink. "I sorta knew who ELP was from my time managing the Philadelphia Record Exchange. We'd be working and playing The Sex Pistols or The Ramones nonstop really loudly and digging it all and these 14-year old kids with glasses and braces would come in and ask for the band that they heard playing 'Lucky Man' on that one compilation album TV commercial. Plenty of times we were wasted and gave them 'ELO's Greatest Hits' or some random Moody Blues record but that just got us visits from angry moms. So that's how I learned who ELP were."
But asked about ELP's prospects for actually being inducted into the Rock & Roll Hall of Fame, Harris turned his eyes as he spoke. "Well, uh, yeah, we survey the entire spectrum of rock and roll music and identify the most influential and revered artists across the whole history. A few years back we did have an informal veterans' committee slot going, and they thought they were righting some wrongs. Genesis got in. They said it was for all their 80's pop stuff, but I know about their 70's music because one of my college roommates played that 'Lamb Lies Down on Broadway' album so much that I finally moved out.
"So they cracked the door open and things got out of hand. I lost a bet and Rush got in. And then Yes. And then The Moody Blues. I got outvoted on The Moody Blues, and that stung, because in my opinion that nominating slot that year should have gone to The Runaways. Their best shot…gone. The next year there were some heated arguments for another prog group, like maybe King Crimson and I think maybe ELP was mentioned, but I put my foot down and said enough. There were some chairs thrown. I lost my (excrement) and screamed 'Where does this (expletive) end? The (expletive) Human League?'"
Asked if he had been changed by his ordeal, Harris looked down and spoke very quietly. "That was just an incredible experience. Otherworldy. Life altering. Both the UFO and the ELP music they played for me. To the point where I will go and order some ELP CDs this week and give them a listen. There might have been things I missed."